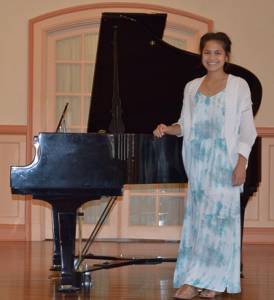 Has your child expressed an interest in piano?  Would they like to learn how to create their own music or enjoy musical activities with other students?  They can at Kimberly's Piano Studio!
During a student's private study, they will have private lessons, group lessons, and repertoire classes. During private lessons, we cover method, theory and technique. The more theory students understand, the more they'll be able to create their own music  🙂  Lessons are tailored to meet the needs and pacing of each student. During the lessons, specific practice techniques are taught and are expected to be used at home to have the most effective practice possible.  Student's should have a good piano to practice on.  Consistent and Quality practice are necessary for progress and for students to enjoy the fruit of their labor!
During group lessons, students will literally "play" with other piano students!  We'll do anything from Rote playing, Improv, Composing, Rhythm & Listening activities, to Ensemble Playing, and more!  Students Love Group Lessons!  Games and activities are often used to teach these concepts and it is also an opportune time for students to form relationships with other piano students.  Some students have been friends now for 11+ years!  (Approx. 6/year)
Repertoire Classes are excellent opportunities for students to practice performing before their peers and be supportive of one another's musical efforts. We could be preparing for an upcoming recital or we might make it a Costume Repertoire Class or Christmas Repertoire Class!  Student's enjoy this more relaxed performance opportunity!  Performance techniques & relaxation strategies are discussed during these classes!  (Approx. 3/year)
Depending on a student's readiness, they are encouraged to participate in piano recitals, composition contests, festivals, and other events held throughout the year.
Feel free to schedule an initial consultation, (717) 654-5754. I look forward to meeting with you!
Contact Us
Tuition (including Private Lessons, Group Lessons & Repertoire Classes) $392/trimester
Intro to Piano: 4 Lessons $140
Should a student discontinue lessons, tuition is non-refundable.